Turkey Ramen is one of my favorite 21day Fix approved recipes. I also like to replace the turkey with chicken.
Ramen Soup
Total Time: 22 min.
Prep Time: 20 min.
Cooking Time: 2 min.
Yield: 4 servings, 1½ cups each
Ingredients:
1 tsp. extra-virgin organic coconut oil
1 cup shredded carrots
4 cloves garlic, chopped
4 cups low-sodium organic chicken (or vegetable) broth, hot
2 Tbsp. reduced-sodium soy sauce
1 Tbsp. red miso paste
4 tsp. finely chopped fresh ginger
2 cups cooked ramen noodles (whole-grain, if possible)
1 cup thinly sliced shiitake mushrooms
1 cup coarsely chopped bok choy
1 cup thinly sliced Napa cabbage
2½ cups shredded roasted turkey breast (approximately 12 oz.)
1 tsp. sesame oil
2 hard-boiled large eggs, cut in half
2 green onions, thinly sliced (for garnish; optional)
Preparation:
1. Heat coconut oil in large skillet over medium heat.
2. Add carrots and garlic; cook, stirring frequently, for 1 to 2 minutes. Set aside.
3. Combine broth, soy sauce, miso paste, and ginger in a large measuring cup; whisk to blend. Set aside.
4. Divide noodles evenly between 4 serving bowls. Top evenly with carrot mixture, mushrooms, bok choy, cabbage, and turkey.
5. Top evenly with broth mixture. Drizzle evenly with sesame oil.
6. Top each bowl with half an egg and sprinkle with green onions, if desired; serve immediately.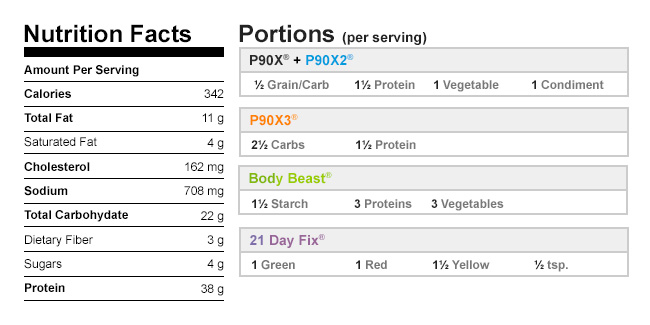 If you have questions about the portions, please click here to post a question in our forums so our experts can help. Please include a link to the recipe you're asking about.
Photos by Kirsten Morningstar
http://www.teambeachbody.com/teambeachbodyblog/nutrition/turkey-ramen